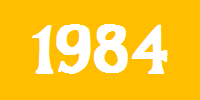 The following media in this list is from 
1984
.
Movies
Walt Disney
Home Video
Columbia/TriStar
20th Century Fox
Home Video
PC Software
Microsoft DOS
Television
CBS
Plus, some Peanuts specials:
Is This Goodbye, Charlie Brown? (January 13 and February 13)
It's Flashbeagle, Charlie Brown (April 16 and June 3)
What Have We Learned, Charlie Brown? (May 26)
It's the Great Pumpkin, Charlie Brown (October 26)
A Charlie Brown Thanksgiving (November 20)
A Charlie Brown Christmas (December 5)
Wheel of Fortune's second season premiered on the same date as the first season of Jeopardy!.
HBO
Four Dr. Seuss films:
Home video
Four Peanuts specials were released on VHS under the brand name "Snoopy's Home Video Library" this year:
Video Games
Donkey Kong 3 was released on July 4 for the Nintendo Family Computer.
Logos of 1984
Film
Television
Broadcast networks:
Cable networks:
Television companies:
Home video
Currency of 1984
| Denomination | Notes |
| --- | --- |
| | The Series 1981A $1 bills were released in April 1984, but until much later that year, there were more Series 1981 bills than 1981As in circulation. |
| | As of January 1, 1984, all $2 bills in circulation remained up to Series 1976. |
| | Until May 1984, every $5 bill in circulation remained a Series 1981, as the Series 1981A bills were just released by that time. |
| | Until May 1984, every $10 bill in circulation remained a Series 1981, as the Series 1981A bills were just released by that time. |
| | Until June 1984, every $20 bill in circulation remained a Series 1981 or older, as the Series 1981A bills were just released by that time. |
| | The Series 1981 $50 bills became very common in 1984. By November, Series 1981A bills also began circulation. |
| | The Series 1981 $100 bills became very common in 1984. By November, Series 1981A bills also began circulation. |