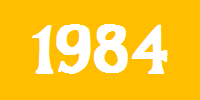 The following media in this list is from 
1984
.
Movies
Walt Disney
Home Video
20th Century Fox
Home Video
PC Software
Microsoft DOS
Television
CBS
Plus, some Peanuts specials:
Is This Goodbye, Charlie Brown? (January 13 and February 13)
It's Flashbeagle, Charlie Brown (April 16 and June 3)
What Have We Learned, Charlie Brown? (May 26)
It's the Great Pumpkin, Charlie Brown (October 26)
A Charlie Brown Thanksgiving (November 20)
A Charlie Brown Christmas (December 5)
Wheel of Fortune's second season premiered on the same date as the first season of Jeopardy!.
HBO
Four Dr. Seuss films:
Home video
Four Peanuts specials were released on VHS under the brand name "Snoopy's Home Video Library" this year:
Video Games
Donkey Kong 3 was released on July 4.
Logos of 1984
Film
Television
Home video
Currency of 1984
The last of the Series 1981 bills were printed this year, as new Series 1981A $1, $5, $10 and $20 bills also went into circulation in mid-1984, while the rarely used $2 bill remained a Series 1976 for about eight years.
By year's end, about 2 billion $1 bills, 400 million $5 bills, 400 million $10 bills, and 700 million $20 bills were in use.
Ad blocker interference detected!
Wikia is a free-to-use site that makes money from advertising. We have a modified experience for viewers using ad blockers

Wikia is not accessible if you've made further modifications. Remove the custom ad blocker rule(s) and the page will load as expected.