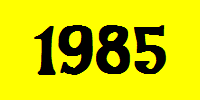 The following media in this list is from 
1985
.
Movies
Walt Disney
Home Video
Columbia/TriStar
20th Century Fox
Theatrical
Home Video
Warner Bros.
Theatrical
MGM
Home Video
PC Software
Microsoft
Television
CBS
Plus, some Peanuts specials:
It's Flashbeagle, Charlie Brown (January 1)
Snoopy's Getting Married, Charlie Brown (March 20)
It's the Great Pumpkin, Charlie Brown (October 30)
You're a Good Man, Charlie Brown (November 6)
A Charlie Brown Thanksgiving (November 26)
A Charlie Brown Christmas (December 4)
Weekend repeats of the two flagship game shows began on most stations on September 14.
Home video
Dr. Seuss
Peanuts
Four Peanuts specials were available under the brand name "Snoopy's Home Video Library":
My Little Pony
Video Games
Logos of 1985
Film
Television
Broadcast networks:
Cable networks:
Television companies:
Home video
Video gaming
Currency of 1985
| Denomination | Notes |
| --- | --- |
| | Until July 1985, every $1 bill in circulation remained a Series 1981A or older, as the Series 1985 bills were just released by that time. |
| | As of January 1, 1985, all $2 bills in circulation remained up to Series 1976. |
| | Until June 1985, every $5 bill in circulation remained a Series 1981A or older, as the Series 1985 bills were just released by that time. |
| | Until September 1985, every $10 bill in circulation remained a Series 1981A or older, as the Series 1985 bills were just released by that time. |
| | Until November 1985, every $20 bill in circulation remained a Series 1981A or older, as the Series 1985 bills were just released by that time. |
| | The last Series 1981A $50 bills were produced in 1985, and they weren't as common as their Series 1981 counterparts. |
| | The last Series 1981A $100 bills were produced in 1985, and they weren't as common as their Series 1981 counterparts. |