The following events occurred in 1986.
Paper money
Denomination
Notes
By March 1986, the Series 1985 $1 bills became more common than older notes in circulation.
As of January 1, 1986, all $2 bills in circulation remained up to Series 1976.
By March 1986, the Series 1985 $5 bills became more common than older notes in circulation.
By May 1986, the Series 1985 $10 bills became more common than older notes in circulation.
The Series 1985 $20 bills became more common by September 1986. Until then, there were more Series 1981A bills than 1985s.
Most early Series 1985 $50 bills entered circulation in January 1986.


Most early Series 1985 $100 bills were introduced in late 1985.

All Series 1981A bills were also still guaranteed in circulation, as so were some Series 1981 bills.
Carryovers
Logos
In theaters, the Big Six major film studios continued using their 1985 logos on 1986 releases of their respective films...
...as so did some of their home video divisions...
...and their television counterparts.
Terrestrial broadcast networks CBS, ABC and PBS continued using their 1984 logos.
Premium cable networks HBO and Cinemax retained their 1985 logos.
Movies
Currently on sale:
Television
The Wizard of Oz continued airing once a year on CBS, having been broadcast on February 15 this year.
Plus, there were some Peanuts specials:
It's the Easter Beagle, Charlie Brown (March 26)
It's Flashbeagle, Charlie Brown (May 27)
It's the Great Pumpkin, Charlie Brown (October 24)
A Charlie Brown Thanksgiving (November 25)
A Charlie Brown Christmas (December 8)
The two My Little Pony specials were last seen on syndication this year.
Currently on sale:
Video Games
The Nintendo Entertainment System remained Nintendo's only home console in the market.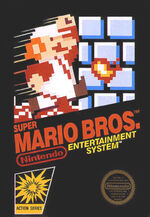 Super Mario Bros. was still the only Mario game available.
What's new for 1986
PC DOS 3.2 added support for 3½-inch floppy disks for the first time. Also, Microsoft Windows's version number was updated to 1.03.
Warner Home Video, RCA-Columbia Pictures Home Video and CIC Video's logos were updated.
February
Home Video
Star Wars Episode VI: Return of the Jedi was released on VHS.
March
Walt Disney's The Sword in the Stone and Warner Bros.'s The Goonies were released for sale this month.
April
The first four Kidsongs videos were released this month. Each video had these opening logos:
May

The NBC logo used for the rest of the 20th century was first seen this year.

Alice in Wonderland hit stores on May 27.
June
Classic arcade games were remade for the NES.
Super Mario Bros.: The Lost Levels was only available in Japan when it was released for the Famicom Disk System on June 3.
Bedknobs and Broomsticks and So Dear to My Heart returned for sale.
Released in theaters on June 20 was G1's My Little Pony: The Movie.
September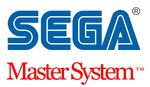 Sega's first home console, the Master System, was released this month.
As the next seasons of Wheel of Fortune and Jeopardy! premiered, Merv Griffin Enterprises became a unit of the Coca-Cola Company, like Columbia Pictures Television.
Replacing the My Little Pony specials was a new 50-episode television series titled My Little Pony 'n Friends.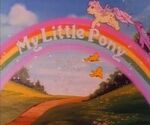 Every episode of this show used the Sunbow and Marvel logos seen below:
October
Walt Disney Home Video and Vestron Video's new logos were first seen this month.
Walt Disney Home Video released Sleeping Beauty on October 14. My Little Pony: The Movie was released by Vestron Video shortly afterwards.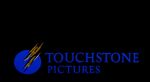 Touchstone Films was renamed to Touchstone Pictures.
Two new Kidsongs videos were released later in 1986.
November–December
The Disney's Sing-Along Songs video series launched this month with the first title, Zip-a-Dee-Doo-Dah.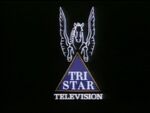 TriStar Television's first programs aired on television.
The Disney Channel updated its logo.
Totals
As of December 31, 1986:
Total movies released in theaters
Total movies released on VHS