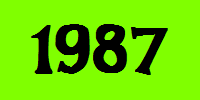 The following media in this list is from 
1987
.
Movies
Walt Disney
Theatrical
Home Video
Sing-Along Songs
20th Century Fox
Home Video
Warner Bros.
Home Video
Other
PC Software
Microsoft
Television
NBC
CBS
ABC
The Disney Channel
Home video
Other
Starting this year, episodes from the My Little Pony TV series were released on VHS by Golden Book Video, after the Children's Video Library went defunct. One example includes "The Golden Horseshoes and The Prince and the Ponies".
Video Games
Mario/Donkey Kong
Logos of 1987
Film
Television
Home video
Video gaming
Currency of 1987
Series year
Denomination
Amount in circulation
1985
4.4 billion
1976
500 million
1985
1.2 billion
1985
1.2 billion
1985
3 billion
1981
200 million
1981A
137.6 million
1985
350 million
1981
277 million
1981A
176 million
1985
300 million
Ad blocker interference detected!
Wikia is a free-to-use site that makes money from advertising. We have a modified experience for viewers using ad blockers

Wikia is not accessible if you've made further modifications. Remove the custom ad blocker rule(s) and the page will load as expected.