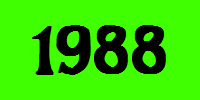 The following media in this list is from 
1988
.
Movies
Walt Disney
Home Video
Sing-Along Songs
Columbia/TriStar
20th Century Fox
Home Video
Warner Bros.
Home Video
MGM
Other
PC Software
Microsoft
Television
NBC
CBS
ABC
Season 2 of Full House premiered on October 14.
The Disney Channel
Home video
Barney & the Backyard Gang
My Little Pony
Golden Book Video continued distributing these titles:
The End of Flutter Valley
Bright Lights
Flight to Cloud Castle/Pony Puppy
Fugitive Flowers/Little Piece of Magic
The Golden Horseshoes/The Prince and the Ponies
Mishmash Melee/Baby, It's Cold Outside
The Quest of the Princess Ponies
The Revolt of Paradise Estate/Sweet Stuff and the Treasure Hunt
Video Games
Mario/Donkey Kong
Donkey Kong and Donkey Kong Jr. were both included in Donkey Kong Classics.
Logos of 1988
Film
Television
Broadcast networks:
Cable networks:
Television companies:
Home video
Video gaming
Currency of 1988
| Denomination | Notes |
| --- | --- |
| | Series 1985 $1 bills remained current in 1988. |
| | As of January 1, 1988, all $2 bills in circulation remained up to Series 1976. |
| | Series 1985 $5 bills remained current in 1988. |
| | Series 1985 $10 bills remained current in 1988. |
| | Series 1985 $20 bills remained current in 1988. |
| | Series 1985 $50 bills remained current in 1988. |
| | Series 1985 $100 bills remained current in 1988, but also still very common were the old Series 1981A bills. |