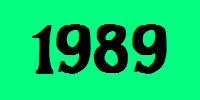 The following media in this list is from 
1989
.
Movies
Walt Disney
Home Video
Sing-Along Songs
Columbia/TriStar
Theatrical
This movie was later released on VHS on November 23.
Home video
20th Century Fox
Home Video
Warner Bros.
Home Video
MGM
Other
PC Software
Microsoft
Television
NBC
CBS
ABC
PBS
My Little Pony last aired this year on syndication.
The Disney Channel
CBN Family Channel
Home video
My Little Pony
Golden Book Video continued distributing these titles:
The End of Flutter Valley
Bright Lights
Flight to Cloud Castle/Pony Puppy
Fugitive Flowers/Little Piece of Magic
The Golden Horseshoes/The Prince and the Ponies
Mishmash Melee/Baby, It's Cold Outside
The Quest of the Princess Ponies
The Revolt of Paradise Estate/Sweet Stuff and the Treasure Hunt
Dr. Seuss
Kidsongs
Barney & the Backyard Gang
Video Games
Mario/Donkey Kong
Currently in development this year was Super Mario World. In the 1989 build of this game, there were only four worlds, and much of the game's content had close connections to Super Mario Bros. 3.
Logos of 1989
Film
Television
Broadcast networks:
Cable networks:
Television companies:
Home video
Video gaming
Currency of 1989
| Denomination | Notes |
| --- | --- |
| | Until January 1989, every $1 bill in circulation remained a Series 1985, as the Series 1988 bills were just released by that time. |
| | As of January 1, 1989, all $2 bills in circulation remained up to Series 1976. |
| | Until April 1989, every $5 bill in circulation remained a Series 1985, as the Series 1988 bills were just released by that time. |
| | Series 1985 $10 bills remained current in 1989, as this denomination never got a Series 1988. |
| | Series 1985 $20 bills remained current in 1989, as this denomination never got a Series 1988. |
| | Until the release of Series 1988 bills in August 1989, all $50 bills were Series 1985 or older. |
| | Until the release of Series 1988 bills in August 1989, all $100 bills were Series 1985 or older. |