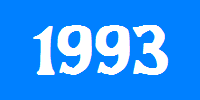 The following media in this list is from 
1993
.
Movies
Walt Disney
Home Video
Sing-Along Songs
Columbia/TriStar
Home Video
20th Century Fox
Home Video
Warner Bros.
Home Video
MGM
PC Software
Microsoft
AOL (America Online), one of the first known internet browsers, was released for Windows 3.1 in January 1993.
Television
NBC
CBS
ABC
PBS
New seasons for these shows premiered on March 21 (Shining Time Station) and September 27 (Barney & Friends), respectively.
HBO/Cinemax
Showtime/The Movie Channel
The Disney Channel
The Family Channel
Nickelodeon
USA Network
Home video
Dr. Seuss
Kidsongs
Barney & Friends
Thomas & Friends
These episodes came from Seasons 1, 2 and 3.
Shining Time Station
Video Games
Mario
Sonic
Kirby
Music
Logos of 1993
Film
Television
Broadcast networks:
Cable networks:
Television companies:
Home video
Video gaming
Currency of 1993
| Denomination | Notes |
| --- | --- |
| | In 1993, the Series 1988A $1 bills remained current in circulation. |
| | As of January 1, 1993, all $2 bills in circulation remained up to Series 1976. |
| | In 1993, the Series 1988A $5 bills remained current in circulation. |
| | As of May 1993, there were more Series 1990 $10 bills than older notes in circulation. |
| | As of June 1993, there were more Series 1990 $20 bills than older notes in circulation. |
| | The Series 1990 $50 bills remained current in circulation in 1993. |
| | As of April 1993, there were more Series 1990 $100 bills than older notes in circulation. |