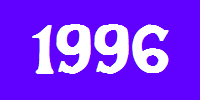 The following media in this list is from 
1996
.
Movies
Walt Disney
Theatrical
Home Video
Sing-Along Songs
Columbia/TriStar
Theatrical
Home Video
20th Century Fox
Home Video
Warner Bros.
Home Video
MGM
Home Video
New Line Cinema
Home Video
PC Software
Microsoft
Further copies of Windows 95 as of August 24, 1996 always included Internet Explorer 3.0.
Television
NBC
CBS
ABC
PBS
For Shining Time Station, a new mini-series called "Mr. Conductor's Thomas Tales" premiered this year. It comprised of episodes from Season 4 of Thomas & Friends.
FOX
The Disney Channel
TNT
The Family Channel
Nickelodeon
While Legends of the Hidden Temple ended production in 1995, it continued to air exclusively on reruns.
USA Network
Home video
Dr. Seuss
Kidsongs
Barney & Friends
Thomas & Friends
These episodes came from Seasons 1, 2, 3 and 4.
Video Games
Mario
Donkey Kong
Sonic
Kirby
Music
Soundtracks
Storytellers
These audio recordings were originally released in cassette format. The Storyette version came with a 24-page Read-Along book with the same story, while the full Storyteller version came as part of a Play-Along deluxe pop-up playset.
Both stories were released via the iTunes Store in Digital MP3 format in 2006/2007.
Websites
Earliest archived sites on the Wayback Machine include:
The oldest archived website ever found is the now-defunct infoseek.com, on May 12, 1996.
Logos of 1996
Film
Television
Broadcast networks:
Cable networks:
Television companies:
Home video
Video gaming
Currency of 1996
| Denomination | Notes |
| --- | --- |
| | By March 1996, there were more Series 1995 $1 bills than older notes in circulation. |
| | As of January 1, 1996, all $2 bills in circulation remained up to Series 1976. Production of new Series 1995 $2 bills also occurred in late 1996, but not many were released to circulation yet. |
| | By May 1996, there were more Series 1995 $5 bills than older notes in circulation. |
| | Series 1995 $10 bills were released to circulation in early 1996. They were printed exclusively at the Western Currency Facility. However, they weren't as common as the Series 1993 bills that continued production in Washington, D.C. |
| | Series 1995 $20 bills were released to circulation in early 1996. They were printed exclusively at the Western Currency Facility. However, they weren't as common as the Series 1993 bills that continued production in Washington, D.C. |
| | By September 1996, the Series 1993 $50 bills finally became more common than older bills in circulation. |
| | New, redesigned Series 1996 $100 bills were released on March 25, 1996, and quickly became very common in circulation later that year. |