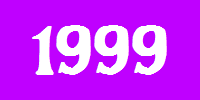 The following media in this list is from 
1999
.
Movies
Walt Disney
Theatrical
On December 25, this film got a new set of outtakes. Home Video
Sing-Along Songs
Columbia/TriStar
Home Video
20th Century Fox
Theatrical
Home Video
Warner Bros.
Theatrical
Home Video
New Line Cinema
Home Video
PC Software
Microsoft
Television
NBC
ABC
PBS
Seasons 1-3 of Barney & Friends last aired in 1999, as the show's underwriters were gradually decreasing.
FOX
WB Network
The first episode to air on that network was the next episode after the last one to air on syndication. Following that were the very first episodes beginning on May 8.
UPN
PAX
TBS Superstation
Disney Channel
Nickelodeon
Fox Family Channel
Shining Time Station last aired in May.
Toon Disney
Nick GAS
Home video
Dr. Seuss
Kidsongs
Barney & Friends
Thomas & Friends
These videos contain stories from episodes up to Thomas & Friends/Season 5.
Pokémon
Video Games
Mario/Yoshi/Wario
Wario Land II was re-released for the Game Boy Color this year.
Donkey Kong
Sonic
Kirby
None this year, but there was a new Kirby game in development.
Pokémon
Other
Music
Books
Harry Potter
Pokémon
Websites
New sites this year include:
Logos of 1999
Film
Television
Broadcast networks:
Cable networks:
Television companies:
Home video
CIC Video was replaced by Paramount Home Entertainment internationally in 1999, when Universal Studios Home Entertainment also purchased PolyGram Video titles.
Video gaming
Currency of 1999
| Denomination | Notes |
| --- | --- |
| | In 1999, the Series 1995 $1 bills remained current in circulation. Also released in December 1999 were new Series 1999 bills. |
| | As of January 1, 1999, there were only a few Series 1995 $2 bills, as most $2 bills in circulation still remained up to Series 1976. |
| | In 1999, the Series 1995 $5 bills remained current in circulation. |
| | In 1999, the Series 1995 $5 bills remained current in circulation. |
| | In 1999, the Series 1996 $20 bills remained current in circulation. |
| | In 1999, the Series 1996 $50 bills remained current in circulation. |
| | In 1999, the Series 1996 $100 bills remained current in circulation. |