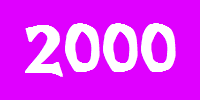 The following media in this list is from 
2000
.
Movies
Walt Disney
Home Video
Delayed from this year were Pete's Dragon, The Sword in the Stone, Bedknobs and Broomsticks, Oliver & Company, The Hunchback of Notre Dame, and Dumbo.
Included in Toy Story 2 was a teaser trailer for the next Pixar film, Monsters, Inc..
Sing-Along Songs
Universal
Theatrical
Attached to this movie was a teaser trailer for Shrek.
Columbia/TriStar
Home Video
20th Century Fox
Home Video
Warner Bros.
Theatrical
Home Video
New Line Cinema
Home Video
PC Software
Microsoft
Internet Explorer 5.01 was included with Windows 2000.
Television
CBS
ABC
PBS
FOX
WB Network
The Orange Islands season was most recent this year.
UPN
Showtime/The Movie Channel
TNT
TBS Superstation
The Special Edition of Star Wars premiered on September 3.
Disney Channel
Nickelodeon
Toon Disney
Nick GAS
Home video
Dr. Seuss
Kidsongs
Barney & Friends
Thomas & Friends
These Thomas & Friends videos come from episodes up to Season 5.
Pokémon
Video Games
Mario/Wario
Donkey Kong
Sonic
Kirby
Pokémon
Other
The developer of My Little Pony: Friendship Gardens, Hasbro Interactive, ceased operations in 2001, thus ending the run of the G2 ponies in the My Little Pony franchise.
Music
Books
Harry Potter
Pokémon
Websites
http://www.sega.com - The redesigned official Sega website was first archived on June 19.
http://www.imdb.com - The redesigned IMDb website was first archived on October 17, when it turned 10 years old.
New sites this year include:
Logos of 2000
Film
Television
Broadcast networks:
Cable networks:
Television companies:
Home video
Video gaming
Currency of 2000
| Denomination | Notes |
| --- | --- |
| | By August 2000, the Series 1999 $1 bills became more common than older bills in circulation. |
| | While the amount of Series 1995 $2 bills in circulation gradually increased, most were still Series 1976. |
| | New, redesigned Series 1999 $5 bills were released on May 24, 2000, but they still weren't very common yet. |
| | New, redesigned Series 1999 $10 bills were released on May 24, 2000, but they still weren't very common yet. |
| | The Series 1999 $20 bills were released in March 2000, but they weren't as common as the Series 1996 bills. |
| | In 2000, all $50 bills in circulation remained up to Series 1996. |
| | In 2000, all $100 bills in circulation remained up to Series 1996. |