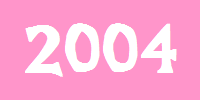 The following media in this list is from 
2004
.
Movies
Walt Disney
Theatrical
Attached to most prints of this film was a teaser trailer for Star Wars Episode III: Revenge of the Sith.
Home Video
Universal
Home Video
Columbia/TriStar
Home Video
A Special Edition DVD of Matilda was planned for release this year, but was delayed to 2005.
20th Century Fox
Home Video
Warner Bros.
Theatrical
Home Video
New Line Cinema
Home Video
DreamWorks
Theatrical
Home Video
PC Software
Microsoft
Apple
No significant changes to iTunes, but in its first year, over 70 million songs were purchased and downloaded from the store, resulting in a total profit of more than $69.3 million.
Television
NBC
This movie aired three times on NBC in 2004. The first time was on February 15.
ABC
FOX
PBS Kids
When Thomas & Friends premiered in 2004, it began with Season 8.
TNT/TBS
ABC Family
Harry Potter and the Sorcerer's Stone was first seen on July 11.
Disney Channel
Nickelodeon/Nick at Nite
Cartoon Network
Nick GAS
HBO/Cinemax
Home video
Super Mario
Kidsongs
Sonic the Hedgehog
Pokémon
Kirby: Right Back at Ya!
There was also a 3-pack set comprising of all three volumes, called "The Kirby Collection".
Dr. Seuss
My Little Pony
Video Games
Mario/Luigi/Wario
Sonic
Kirby
Other
Music
After the launch of the iTunes Music Store, albums have increasingly been released in MP3-only format.
These albums were still only available in Audio CD:
These albums were also available in digital MP3:
Books
Harry Potter
Websites
Logos of 2004
Film
Television
Broadcast networks:
Cable networks:
Television companies:
Home video
Video gaming
Currency of 2004
| Denomination | Notes |
| --- | --- |
| | By August 2004, the Series 2003 $1 bills became more common than older bills in circulation. |
| | In 2004, the Series 2003 $2 bills were released, but there were still more Series 1976 and 1995 bills than those in circulation. |
| | While Series 2003 $5 bills were current, there were still more Series 2001 bills than those in circulation. |
| | While Series 2003 $10 bills were current, there were still more Series 2001 bills than those in circulation. |
| | By July or August 2004, the Series 2004 $20 bills became more common than older bills in circulation. |
| | Released on September 28, 2004 were the Series 2004 $50 bills, which became as common as the Series 2001 bills in December, but still less common than the Series 1996 bills. |
| | The Series 2003 $100 bills were released in April 2004, but even with the Series 1999 and 2001 bills combined, they still weren't as common as the Series 1996 bills. |