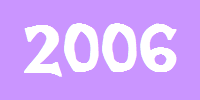 The following media in this list is from 
2006
.
Walt Disney
Edit
Home Video
Universal
Edit
Home Video
Columbia/TriStar
Edit
Home Video
20th Century Fox
Edit
Theatrical
Home Video
Warner Bros.
Edit
Home Video
Hollywood Pictures
Edit
New Line Cinema
Edit
Home Video
DreamWorks
Edit
Home Video
Home Video
PC Software
Edit
Microsoft
Edit
With the release of iTunes 7, full-length movies could now be purchased, usually with digital rights management copy protection.
Television
Edit
ABC Family
Edit
Disney Channel
Edit
Nickelodeon/Nick at Nite
Edit
Cartoon Network
Edit
HBO/Cinemax
Edit
Home video
Edit
Super Mario
Pokémon
Kirby
Dr. Seuss
Video Games
Edit
Mario/Yoshi
Edit
Harry Potter
Edit
The Cat in the Hat official website ("www.catinthehat.com") was replaced by Welcome to Seussville! in April this year.
The official Kirby website ("www.kirbykirbykirby.com") is redesigned to include Kirby Squeak Squad.
Logos of 2006
Edit
Television
Edit
Home video
Edit
Video gaming
Edit
Currency of 2006
Edit
More than 4.5 million Series 2003A $1 bills were circulated in 2006, making up more than half of all $1 bills.
From 2006 to early 2012, Series 2003A $2 bills were in circulation.
New Series 2003A $5 bills entered circulation in 2006, comprising of 34% of all $5 bills, while 61% were Series 2003, and 5% were Series 2001.
The $10 bill was redesigned as Series 2004A. It was released on March 2, 2006. Approximately 850 million were made in its first year.
By 2006, 36% of all $20 bills were Series 2004A, while the remaining 64% were Series 2004.
No new $50 bills were made in 2006. There were still only 7% of all $50 bills as Series 2004A, 28% as Series 2004, 20% as Series 2001, and the remaining 45% still as Series 1996.
By 2006, 20% of all $100 bills were now Series 2003A, while 18% were Series 2003, 21% were Series 2001, 9% were Series 1999, and the remaining 32% were still Series 1996.
Ad blocker interference detected!
Wikia is a free-to-use site that makes money from advertising. We have a modified experience for viewers using ad blockers

Wikia is not accessible if you've made further modifications. Remove the custom ad blocker rule(s) and the page will load as expected.