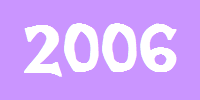 The following media in this list is from 
2006
.
Movies
Walt Disney
Theatrical
Home Video
Also available for the first time on (standard definition) digital:
Universal
Home Video
Columbia/TriStar
Home Video
20th Century Fox
Theatrical
Home Video
Warner Bros.
Home Video
A teaser trailer for Harry Potter and the Order of the Phoenix was released online in December.
New Line Cinema
Home Video
DreamWorks
Home Video
A teaser trailer for Shrek the Third was released online in late 2006.
Other
Home Video
PC Software
Microsoft
Apple
With the release of iTunes 7, full-length movies could now be purchased, usually with digital rights management copy protection.
Television
ABC
FOX
Kirby: Right Back at Ya! returned to 4Kids TV on July 8.
PBS Kids
TNT/TBS
ABC Family
Disney Channel
Nickelodeon/Nick at Nite
After 10 seasons, All That was removed from Nickelodeon's lineup.
Cartoon Network
Nick GAS
Showtime/The Movie Channel
Matilda also aired on digital premium cable networks Showtime Beyond and Showtime Family Zone, where it was only presented in standard definition.
Home video
Super Mario
Kidsongs
Sonic the Hedgehog
Kirby
Dr. Seuss
My Little Pony
Video Games
Mario/Luigi/Wario/Waluigi
Sonic
Kirby
Other
Music
These albums were still only available in Audio CD:
These albums were also available in digital MP3:
Books
Harry Potter
Websites
Logos of 2006
Film
This was the final year for Touchstone Pictures regularly releasing films in theaters due to industry costs. As a result, no R-rated movies were released from this brand name until September 2008.
Television
Broadcast networks:
The CW Network replaced the WB Network in September 2006. UPN was also dissolved at that same time.
Cable networks:
Television companies:
Home video
Video gaming
Currency of 2006
| Denomination | Notes |
| --- | --- |
| | By July 2006, there were more Series 2003A $1 bills than older bills in circulation. |
| | $2 bills gradually became more common with the release of new Series 2003A bills that went into circulation in late 2006. |
| | The Series 2003A $5 bills were released at the same time as the redesigned $10 bills, but these $5 bills weren't as common as the Series 2003 bills during most of 2006. |
| | New, redesigned Series 2004A $10 bills were released on March 2, 2006, but like the Series 2003A $5 bills, they weren't as common as the old Series 2003 bills during most of 2006. |
| | The last Series 2004A $20 bills were produced in late 2006, and yet, even though they were pretty common in circulation, they still weren't as common as the Series 2004 bills. |
| | The Series 2004A $50 bills were released in early 2006, but they still weren't as common as the Series 1996-2001 bills. |
| | In 2006, $100 bills from Series 2001 to 2003A were the most common in circulation. |