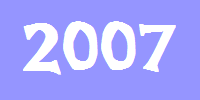 The following media in this list is from 
2007
.
Walt Disney
Edit
Home Video
Late this year, a trailer for the 2-Disc Platinum Edition of 101 Dalmatians was released.
Universal
Edit
Home Video
Columbia/TriStar
Edit
Home Video
20th Century Fox
Edit
Home Video
Warner Bros.
Edit
Theatrical
Home Video
Hollywood Pictures
Edit
New Line Cinema
Edit
Home Video
DreamWorks
Edit
Theatrical
Home Video
Home Video
PC Software
Edit
Several version numbers of iTunes was released this year. First, iTunes 7.2 fully supported Windows Vista; 7.3 was the last to also support Windows 2000; and 7.4 was the first version to introduce closed captioning for video playback.
Also introduced from Apple was the first version of iOS, initially released on June 29. Safari is the default web browser on iOS.
Microsoft
Edit
Television
Edit
As of March 2007, all television sets manufactured since that date have built-in DTV tuners, causing all analog television sets (the format used worldwide since the very beginning) to phase out.
Nickelodeon/Nick at Nite
Edit
Disney Channel
Edit
Cartoon Network
Edit
ABC Family
Edit
On December 31, Nick GAS is completely replaced by the now 24/7 cable network, The N, and its sister channel, Noggin, also now airs 24/7.
Home video
Edit
Kirby
Mario/Sonic
Pokémon
Dr. Seuss
Video Games
Edit
Mario/Yoshi
Edit
Harry Potter
Edit
Diary of a Wimpy Kid
Edit
The Nintendo.com website got another makeover late this year, to only promote Nintendo DS and Wii games.'
Early in September, SproutOnline.com, the official website for PBS Kids Sprout, was redesigned to introduce streaming of video clips from all acquired shows aired on that network at that time.
Logos of 2007
Edit
Currency of 2007
Edit
Over 2.2 billion new Series 2006 $1 bills were circulated in 2007.
Still in the old 2000 design, the last $5 bills with this design were circulated in 2007 and early 2008.
Only 83.2 million Series 2006 $10 bills were circulated in 2008, as most other $10 bills were either Series 2004A or 2003 when circulated in 2007.
About 1.9 million new Series 2006 $20 bills were circulated in 2007, making up about 30% of all $20 bills.
The last Series 2004A and first Series 2006 $50 bills were circulated in 2007. About 65% of all $50 bills were in the current design, while 18% were Series 2001, and the remaining 17% were Series 1996.
The Series 2006 $100 bill entered circulation in the Eastern United States.
Ad blocker interference detected!
Wikia is a free-to-use site that makes money from advertising. We have a modified experience for viewers using ad blockers

Wikia is not accessible if you've made further modifications. Remove the custom ad blocker rule(s) and the page will load as expected.