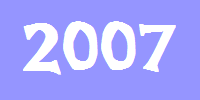 The following media in this list is from
2007
.
Movies
Walt Disney
Home Video
Also available for the first time on (standard definition) digital:
Cars was also released on Blu-ray Disc for the first time on November 6.
Universal
Home Video
Columbia/TriStar
Home Video
20th Century Fox
Home Video
Also available on (standard definition) digital:
Warner Bros.
Theatrical
Home Video
Also available for the first time on Blu-ray:
New Line Cinema
Home Video
DreamWorks
Theatrical
Home Video
Other
Home Video
PC Software
Apple
Several version numbers of iTunes was released this year. First, iTunes 7.2 fully supported Windows Vista; 7.3 was the last to also support Windows 2000; and 7.4 was the first version to introduce closed captioning for video playback.
Also introduced from Apple was the first version of iOS, initially released on June 29. Safari is the default web browser on iOS.
Microsoft
Although retail sales of Windows XP ended in 2006, support continued until July 13, 2010.
Television
As of March 2007, all television sets manufactured since that date have built-in DTV tuners, causing all analog television sets (the format used worldwide since the very beginning) to phase out.
NBC
ABC
FOX
Sonic X returned to 4Kids TV on May 5.
PBS Kids
TNT/TBS
ABC Family
Disney Channel
Nickelodeon/Nick at Nite
Cartoon Network
Nick GAS
As of December 31, Nick GAS has been completely replaced by the now 24/7 cable network, The N, and its sister channel, Noggin, also now aired 24/7.
Sprout
21 episodes of the first three seasons of Barney & Friends premiered in late September, and they aired in rotation.
HBO/Cinemax
Home video
This was the last year for Paramount Home Entertainment's distribution of Peanuts episodes.
Super Mario
Kidsongs
Sonic the Hedgehog
Kirby
Pokémon
Dr. Seuss
My Little Pony
Paramount continued distribution of My Little Pony until 2009.
Video Games
Mario
Sonic
Kirby
Other
Music
These albums were still only available in Audio CD:
These albums were also available in digital MP3:
Books
Harry Potter
Diary of a Wimpy Kid
Websites
http://www.nintendo.com - The official Nintendo website got another makeover late this year, removing all Game Boy Advance and GameCube games and leaving behind only ones for the Nintendo DS and Wii.
http://SproutOnline.com - The official website for PBS Kids Sprout was redesigned to introduce streaming of video clips from all acquired shows aired on that network at that time.
Logos of 2007
Film
Television
Broadcast networks:
Cable networks:
Television companies:
On ABC Family broadcasts of movies, the National Captioning Institute now often uses the original logo, or in other such cases, weird variants of it.
Home video
Video gaming
Currency of 2007
| Denomination | Notes |
| --- | --- |
| | The Series 2006 $1 bills were released in April 2007, but they weren't as common as the Series 2003A bills during that year. |
| | In 2007, Series 2003A $2 bills remained current in circulation. |
| | By early 2007, the Series 2003A $5 bills became very common in circulation. Then in mid-2007, the Series 2006 $5 bills (in the old design) were released. Because these bills were limited production, they were really rare to find. |
| | By 2007, the Series 2004A $10 bills became very common in circulation. |
| | The Series 2006 $20 bills were released in February 2007. By that time, both these and the Series 2004A bills became very common in circulation. |
| | By 2007, $50 bills in the current design became very common in circulation. The newest ones, Series 2006, were released in March 2007. |
| | By mid-2007, $100 bills from Series 2003 to 2006 became very common in circulation. The Series 2006 bills were released in April 2007. |