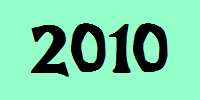 The following media in this list is from 
2010
.
Movies
Walt Disney
Theatrical
Cars 2's first official trailer was released in November.
Home Video
Trailers for upcoming titles included Bambi and The Lion King. Also available on (standard definition) digital:
Universal
Theatrical
Home Video
Columbia/TriStar
Home Video
20th Century Fox
Theatrical
Home Video
Also available on Blu-ray:
Also available on (standard definition) digital:
Warner Bros.
Theatrical
Home Video
Ultimate Editions of the third and fourth Harry Potter movies were also released October 19.
New Line Cinema
Home Video
DreamWorks
Theatrical
Home Video
PC Software
Apple
The iPhone 4 and iOS 4 were released on June 21. Support for iTunes 10 was included with iOS 4.1.
Google
Microsoft
Television
ABC
CW Network
PBS Kids
TBS
ABC Family
Disney Channel
TeenNick
Boomerang
Sprout
The Hub
Home video
Kidsongs
Super Mario
Volume DVDs of all three shows included Once Upon a Koopa, Mario of the Deep, Mario Spellbound, Air Koopa, The Trouble With Koopas, What a Wonderful Warp, Mario's Adventures Out West, The Best of the Super Mario Bros. Super Show, Showdown in Brooklyn, Mario Bros. Mix, Koopas Rock!, Koopa's Stone Age Quests, and Yoshi the Superstar.
Pokémon
Dr. Seuss
My Little Pony
On Digital
Video Games
Mario
A Wii re-release for Super Mario All-Stars occurred in December.
Sonic
Kirby
Music
These albums were still only available in Audio CD:
These albums were also available in digital MP3:
Books
Harry Potter
Diary of a Wimpy Kid
Websites
The Kidsongs website was redesigned early in 2010.
Kirby Super Star Ultra's official website (www.kirbykirbykirby.com) was replaced by Kirby's Epic Yarn for one year.
The official website for G3.5 of My Little Pony was replaced by the G4 official website.
Logos of 2010
Film
Television
Broadcast networks:
Cable networks:
Television companies:
Home video
Video gaming
Currency of 2010
| Denomination | Notes |
| --- | --- |
| | In 2010, Series 2006 $1 bills remained current in circulation, even though production of Series 2009 bills began in February. |
| | In 2010, Series 2003A $2 bills remained current in circulation. |
| | In 2010, Series 2006 $5 bills in the new design remained current in circulation. |
| | In 2010, Series 2006 $10 bills remained current in circulation. |
| | In 2010, Series 2009 $20 bills began being released to circulation, joining the Series 2006 bills. |
| | In 2010, $50 bills from Series 2004 to 2006 remained current in circulation. |
| | In 2010, Series 2006 $100 bills remained current in circulation. All Series 2006 bills produced from November 2009 to May 2010 were released to circulation within 2010. A redesigned Series 2009 bill was unveiled on April 21, but was delayed on October 1. |