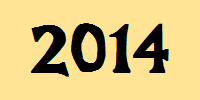 The following media in this list is from 
2014
.
Movies
Walt Disney
Theatrical
Trailers for Inside Out were released online and in theaters late this year.
Home Video
Late in August, the official YouTube channel of Disney Movies uploaded a trailer for the Diamond Edition of 101 Dalmatians.
Also available on Digital HD:
Only available on DVD:
Universal
Theatrical
No films were released this year from Illumination Entertainment, as Minions was delayed from December 19 of this year to a July 10, 2015 release on September 20, 2013.
Home Video
Sony Pictures
Theatrical
Home Video
20th Century Fox
Theatrical
Home Video
Also available on Digital HD:
Warner Bros.
Theatrical
Home Video
New Line Cinema
Home Video
DreamWorks
Home Video
Other
Shout! Factory released a trailer for the 30th Anniversary Edition DVD of My Little Pony: The Movie in November.
PC Software
Apple
You are no longer allowed to play iTunes exclusives (such as copy protected .m4v movies or TV shows) on QuickTime as of this version. On the other hand, iOS 8 was released on September 17, along with the new iPhone 6. This version of iOS initially included iTunes 11.4, the last version that allows you to play copy-protected movies and TV shows on QuickTime.
Google
Full stable support for 64-bit Windows operating systems was added on August 26.
Microsoft
Windows 8.1 Update was released on April 8.
Television
CW Network
PBS Kids
TBS
ABC Family
Disney Channel
Nickelodeon/Nick at Nite
TeenNick
Cartoon Network
Boomerang
Sprout
Discovery Family
The first era of My Little Pony: Friendship is Magic (2010-2014) ended late this year, when the Hub Network was replaced by this network.
Home video
My Little Pony
Super Mario
Pokémon
Dr. Seuss
On Digital
Video Games
Mario/Yoshi
Sonic
Kirby
Music
Books
Harry Potter
Diary of a Wimpy Kid
My Little Pony
Apps
Websites
Uploaded to YouTube from March to June this year were eight animated shorts promoting My Little Pony: Equestria Girls: Rainbow Rocks.
Logos of 2014
Film
Television
Broadcast networks:
Cable networks:
Television companies:
Home video
Video gaming
Currency of 2014
| Denomination | Notes |
| --- | --- |
| | The Series 2013 $1 bills were released to circulation on April 25, 2014. However, there were still lots more Series 2009 bills in circulation. |
| | The first Series 2013 $2 bills were released to circulation in early 2014. However, they were only distributed to one Federal Reserve Bank. |
| | As Series 2013 $5 bills continued production, the Series 2009 bills remained the most common in circulation. |
| | The Series 2013 $10 bills were released to circulation on January 3, 2014. However, there were still more Series 2009 bills in circulation. |
| | The Series 2013 $20 bills were released to circulation on January 3, 2014. However, there were still more Series 2009 bills in circulation. |
| | The Series 2013 $50 bills were introduced in mid-2014. Until then, most $50 bills were Series 2009 or older. |
| | Production of Series 2009A $100 bills quickly increased in 2014, unlike smaller bills. |