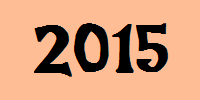 The following media in this list is from 
2015
.
Movies
Walt Disney
Theatrical
Trailers for Zootopia and Finding Dory were released online and in theaters this year.
Home Video

Also available on Digital HD:
Only available on DVD:
Universal
Theatrical
Home Video
Sony Pictures
Theatrical
Home Video
20th Century Fox
Theatrical
A trailer for Ice Age: Collision Course was first seen online on December 15.
Home Video
Also available on Digital HD:
Warner Bros.
Home Video
New Line Cinema
Home Video
DreamWorks
Home Video
Other
Home Video
Released by Shout! Factory, who currently also distributes My Little Pony: Friendship is Magic on DVD.
PC Software
Apple
As of iTunes 12.2 (released on June 30), you will be required Windows 7 or higher, as support for Windows XP and Vista was dropped after iOS 9 on September 17.
Google
Microsoft
Upon the initial release of Windows 10, a free upgrade offer for this version of Windows was obtained for those using genuine copies of Windows 7 or 8.1. This offer lasted for one year, until July 29, 2016.
Television
PBS Kids
TBS
ABC Family
Disney Channel
Nickelodeon/Nick at Nite
TeenNick
Cartoon Network
Boomerang
Discovery Family
Season 5 of the TV series premiered on April 4, also marking the beginning of the show's second era. It continued through November 28 with a total of 26 episodes.
Home video
My Little Pony
Super Mario
Pokémon
Dr. Seuss
On Digital
Video Games
Mario
Sonic
Kirby
Music
Books
Diary of a Wimpy Kid
My Little Pony
Apps
Websites
Late in July, the official website for the My Little Pony: Equestria Girls film series changed its address to "equestriagirls.hasbro.com".
Uploaded to YouTube throughout August were five animated shorts promoting the film.
Logos of 2015
Film
Television
Broadcast networks:
Cable networks:
Television companies:
Home video
Video gaming
Currency of 2015
| Denomination | Notes |
| --- | --- |
| | Although production of Series 2013 $1 bills continued in 2015, there were still more Series 2009 bills remaining in circulation. |
| | As production of Series 2013 $2 bills continued, the Series 2009 bills remained current in circulation. |
| | By mid-2015, the Series 2013 $5 bills became the most common in circulation. |
| | By mid-2015, the Series 2013 $10 bills became the most common in circulation. |
| | Although production of Series 2013 $20 bills continued in 2015, there were still more Series 2009 bills remaining in circulation. |
| | Very few Series 2013 $50 bills were produced in 2015. As a result, the Series 2009 bills remained more common than those in circulation. |
| | The Series 2009A $100 bills continued to rapidly increase in availability in 2015. |