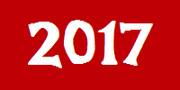 The following list contains media still available today, in the year 2017.
Note: Media without a specific date were available prior to December 31, 2016.
Walt Disney
Edit
Home Video
Paramount
Edit
Universal
Edit
Theatrical The movie Sing continues to play in theaters in January of this year. Home Video
Sony Pictures
Edit
Theatrical Set for release in theaters on April 7 is Smurfs: The Lost Village. Home Video
20th Century Fox
Edit
Home Video
Warner Bros.
Edit
Home Video
Hollywood Pictures
Edit
New Line Cinema
Edit
Home Video
DreamWorks
Edit
Home Video
Home Video
A teaser trailer for the 2017 film was released on April 6, 2017, exactly six months (half a calendar year) before the film's official release date of October 6.
PC Software
Edit
Microsoft
Edit
Television
Edit
Nickelodeon/Nick at Nite
Edit
Cartoon Network
Edit
Boomerang
Edit
Discovery Family
Edit
The first portions of Season 7 were released on April 15 and will run for a total of 26 more episodes.
Home video
Edit
My Little Pony
On Digital
Edit
Video Games
Edit
Mario/Yoshi
Edit
Diary of a Wimpy Kid
Edit
My Little Pony
Edit
The official website for My Little Pony: The Movie (the 2017 one) launched online on May 22.
Logos of 2017
Edit
Currency of 2017
Edit
As of October 6, 2017:
Series year
Denomination
Amount in circulation
2009
4.6 billion
2013
7.3 billion
1976-2003A
800 million
2009
134.4 million
2013
240 million
2013
2.9 billion
2009
100 million
2013
1.8 billion
2006-2009
2.2 billion
2013
7 billion
2006-2009
900 million
2013
900 million
2006A
2.8 billion
2009A
7.3 billion
2009
1.4 billion
Ad blocker interference detected!
Wikia is a free-to-use site that makes money from advertising. We have a modified experience for viewers using ad blockers

Wikia is not accessible if you've made further modifications. Remove the custom ad blocker rule(s) and the page will load as expected.