Let your spirits soar as you travel beyond the big top to Walt Disney's timeless classic! In celebration of this landmark film's 70th anniversary, Dumbo now includes a thrilling digital restoration and never-before-seen bonus features!
When Mrs. Jumbo's little "Baby Mine" finally arrives, Dumbo and his oversized ears become the talk of the circus. With the help of his loyal best friend, Timothy Mouse, a magic feather and a ton of courage, Dumbo uses his sensational ears to soar to fame as the world's one and only flying elephant!
Full of daring adventure, memorable characters, award-winning music and inspiring messages about the power of friendship and belief in yourself, Dumbo will become a treasured part of your family's collection of classic DVDs.
Advertised on:
Edit
Snow White and the Seven Dwarfs (November 4, 2009)
Bambi (March 1, 2011)
Television broadcasts
Edit
Dumbo has aired on Disney Junior since December 28, 2013, and on ABC Family since March 2, 2014.
Broadcast date(s)
Channel aired

December 28, 2013
March 21, 2014
May 10, 2014

March 2, 2014
June 14, 2014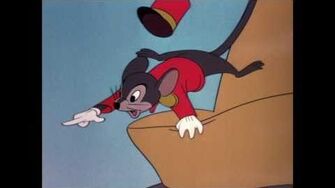 Ad blocker interference detected!
Wikia is a free-to-use site that makes money from advertising. We have a modified experience for viewers using ad blockers

Wikia is not accessible if you've made further modifications. Remove the custom ad blocker rule(s) and the page will load as expected.