In Arendelle, lives two princesses named Elsa and Anna. Elsa has the powers to produce ice and snow, and one night, accidentally injures her sister Anna with her powers, causing their parents, the King and Queen of Arendelle, seek help from the Troll King, who heals Anna and also removes her memories of Elsa's magic. Until Elsa is able to control her powers, the two are to remain in the castle. One day, during Anna and Elsa's teenhood, their parents die in a storm. Another few years later, Elsa's coronation of becoming the new Queen of Arendelle has begun. Anna, also now allowed to be out of the castle, explores the town and meets Prince Hans, the main antagonist of the film. But when Elsa sees Hans and Anna dancing romantically, she flees from Arendelle and casts an entire season of winter in the kingdom. After she's left far enough, she builds her own castle out of ice. Determined to end her sister's spell and reinstate their relationship, Anna goes after her. Along the way, she meets Kristoff, an iceman, his pet reindeer, Sven, and Olaf, Anna and Elsa's childhood snowman brought to life. When they all arrive to Elsa's ice castle, they try to convince her to come back to Arendelle. Fearing that she would hurt her sister again, Elsa forces Anna and her friends to leave by summoning a snow creature called "Marshmallow", who successfully chases them out. Kristoff then notices Anna's hair turning icy white, and seeks help from the trolls. They tell him that Anna's heart was frozen by Elsa, and unless it is thawed by an act of true love, Anna will be solid as ice forever. Thinking that Hans can save her with a true love's kiss, they race back to Arendelle. When Hans arrives to Elsa's castle, he knocks her unconscious, and she is taken away to the dungeon of Arendelle Castle. He then reunites with Anna, but when she begs him to kiss her to save her life, Hans reveals his true nature that if he married her, he would seize control of Arendelle's throne, and leaves Anna to die. Olaf tells Anna that Kristoff is her real true love, and it's his kiss that will break the spell. Meanwhile, Hans tells Elsa that it's her fault that Anna is about to die. As he is about to kill Elsa, Anna sacrifices herself by blocking Hans' attack. Because the sacrifice constituted an act of true love, everything, including Anna herself, begins to thaw, and summer is restored in the kingdom. Hans is taken away to Southern Isles, facing punishment for his crimes in Arendelle. Anna and Kristoff share a kiss, and Anna and Elsa reconcile.
Character's name
Voiced by
Sonic counterpart
MLP counterpart
Anna

Kristen Bell
Livvy Stubenrauch (child)

Twilight Sparkle
Elsa

Idina Menzel
Eva Bella (child)

Sally Acorn
Rainbow Dash
Kristoff

Jonathan Groff
Tyree Brown (child)

Sonic
Flash Sentry
Olaf
Josh Gad
Tails
Spike
Hans
Santino Fontana
Shadow
Trixie
Duke of Weselton
Alan Tudyk
Troll King
Ciarán Hinds
Oaken
Chris Williams
Bulda
Maia Wilson
Marshmallow
Paul Briggs
King of Arendelle
Maurice LaMarche
Vector
Queen of Arendelle
Jennifer Lee
Vanilla
In Other Languages
Edit
| Language | Title |
| --- | --- |
| Spanish | Frozen: Una Aventura Congelada |
| Portuguese | Frozen: Uma Aventura Congelante |
| Japanese | アナと雪の女王 |
| Chinese | 冰雪奇緣 |
| Korean | 겨울 왕국 |
| Thai | ผจญภัยแดนคำสาปราชินีหิมะ |
Production timeline
Edit
August 2012: The film's release date was officially announced as November 27, 2013.
Release timeline
Edit
| Format | Country of origin | Date |
| --- | --- | --- |
| Trailer #1 | Worldwide | June 18, 2013 |
| Trailer #2 | Worldwide | September 26, 2013 |
| Trailer #3 | Worldwide | October 17, 2013 |
| Original theatrical | USA | November 27, 2013 |
| Trailer for DVD/Blu-ray Disc | USA | January 10, 2014 |
| On YouTube | Worldwide | January 18, 2014 |
| DVD/Blu-ray Disc | USA | March 18, 2014 |
| DVD/Blu-ray Disc | Latin America | March 21, 2014 |
| DVD/Blu-ray Disc | Thailand | March 27, 2014 |
| DVD/Blu-ray Disc | UK | March 31, 2014 |
| DVD/Blu-ray Disc | France | April 4, 2014 |
| DVD/Blu-ray Disc | Brazil | April 9, 2014 |
| DVD/Blu-ray Disc | South Korea | April 10, 2014 |
| DVD/Blu-ray Disc | Taiwan | April 15, 2014 |
| DVD/Blu-ray Disc | Australia | April 30, 2014 |
| DVD/Blu-ray Disc | Japan | July 16, 2014 |
Television broadcast timeline
Edit
Broadcast date(s)
Channel aired

February 14, 2016
April 30, 2016
July 22, 2016
December 23, 2016
February 4, 2017
March 10, 2017
June 29, 2017
August 6, 2017

February 20, 2016
January 28, 2017

March 26, 2016
December 17, 2016
January 21, 2017
May 6, 2017

September 4, 2016 (Spanish dub)
Telemundo
Home video release
Edit
Main article: Frozen (Blu-ray/DVD)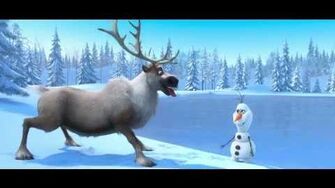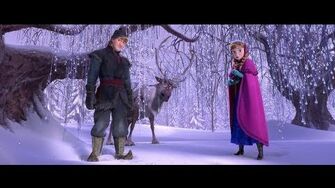 Ad blocker interference detected!
Wikia is a free-to-use site that makes money from advertising. We have a modified experience for viewers using ad blockers

Wikia is not accessible if you've made further modifications. Remove the custom ad blocker rule(s) and the page will load as expected.