Frozen, the 53th animated feature from Walt Disney Animation Studios, was released on DVD and Blu-ray Disc on March 18, 2014.
Synopsis
Walt Disney Animation Studios presents a chilly twist on one of the most humorous and heartwarming stories ever told. "Disney Animation's best since The Lion King," will melt your heart. Fearless optimist Anna sets off on an epic journey -- teaming up with rugged mountain man Kristoff and his loyal reindeer Sven -- to find her sister Elsa, whose icy powers have trapped the kingdom of Arendelle in eternal winter. Encountering Everest-like conditions, mystical trolls and a hilarious snowman named Olaf, Anna and Kristoff battle the elements in a race to save the kingdom. Bring home Frozen on DVD and Blu-ray -- featuring cool bonus extras with gorgeous animation, memorable characters and unforgettable music. It's dazzling fun for the whole family!
Websites
Videos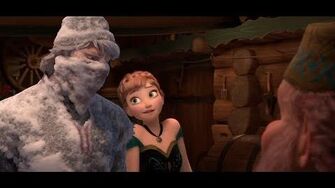 Ad blocker interference detected!
Wikia is a free-to-use site that makes money from advertising. We have a modified experience for viewers using ad blockers

Wikia is not accessible if you've made further modifications. Remove the custom ad blocker rule(s) and the page will load as expected.