This is it -- the Battle of Hogwarts has finally begun! And this time, Voldemort and his Death Eaters are planning to attack the school themselves. It's them versus Dumbledore's Army. In this film, Ron and Hermione go down to the Chamber of Secrets to collect some Horcruxes to destroy Helga Hufflepuff's Cup. At the end, including the many that die throughout the Battle of Hogwarts, Harry defeats (and ultimately kills) Voldemort by backfiring the Killing Curse using Dumbledore's Elder Wand.
Daniel Radcliffe - Harry Potter
Rupert Grint - Ron Weasley
Emma Watson - Hermione Granger
Jim Broadbent - Horace Slughorn
Helena Bonham Carter - Bellatrix Lestrange
Robbie Coltrane - Rubeus Hagrid
Tom Felton - Draco Malfoy
Ralph Fiennes - Lord Voldemort
Michael Gambon - Albus Dumbledore
Jason Isaacs - Lucius Malfoy
Gary Oldman - Sirius Black
Alan Rickman - Severus Snape
Maggie Smith - Minerva McGonagall
David Thewlis - Remus Lupin
Julie Walters - Molly Weasley
Bonnie Wright - Ginny Weasley
Release timeline
Edit
| | |
| --- | --- |
| April 27, 2011 | Theatrical trailer #1 |
| June 16, 2011 | Theatrical trailer #2 |
| July 15, 2011 | Original theatrical |
| November 11, 2011 | DVD/Blu-ray Disc |
| November 13, 2012 | Ultimate Edition |
Television broadcasts
Edit
Harry Potter and the Deathly Hallows: Part 2 premiered on ABC Family and its HDTV counterpart on November 30, 2013, and was presented in a 720p resolution. It most recently aired on March 5, 2017 on Freeform.
Home video timeline
Edit
Main article: Home video timeline for the Harry Potter series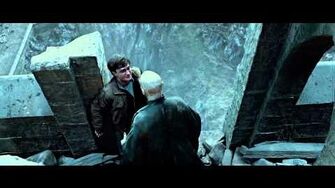 Ad blocker interference detected!
Wikia is a free-to-use site that makes money from advertising. We have a modified experience for viewers using ad blockers

Wikia is not accessible if you've made further modifications. Remove the custom ad blocker rule(s) and the page will load as expected.