Synopsis
What Could Be More Fun Than A Field Trip To Everypony's Favorite Camp?
When Canterlot High School goes on a field trip to Camp Everfree, they're surprised to find a magical force is causing strange things to happen. Twilight Sparkle , with the help of the Mane 6 and especially Sunset Shimmer (who refuses to give up on her), must confront the dark "Midnight Sparkle" within herself and embrace her newfound magical abilities to save the beloved camp from closing down for good!
Cast
Television broadcasts
The film premiered at 8:00 p.m. on November 5, 2016 within Discovery Family, followed by reruns on November 9 and during the "Party with the Ponies" marathon on December 31, 2016, during the Season 7 premiere in April 2017, and again on July 15, 2017.
Special Features
Audio Commentary
Bloopers
Sing-Alongs
This DVD also includes a trailer for all of the first three Equestria Girls films.
Gallery
Videos
Trailers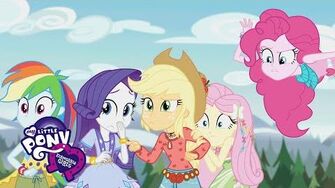 This trailer was released on July 22, 2016, during the Comic-Con International 2016.
The home video trailer shown above was uploaded by Shout! Kids on October 3, 2016.
Sneak Peeks
Five sneak peeks at the first 10 minutes of the film were uploaded to YouTube in August 2016. Animated shorts were originally planned to promote the film, but were canceled on August 24.
Featurettes
Five short video clips of characters and stuff only seen in this film were uploaded in October. They are:
Best Week of Camp Ever(free) (October 6)
Gloriosa Daisy and Timber Spruce (October 17)
The Crystal Gala (October 17)
Rarity's Runway (October 21)
Pinkie's Summer at Camp (October 25)
These were the last official video clips uploaded by the series' old YouTube channel, as any further clips for newer installments will now instead be uploaded by Hasbro, as explained by the channel itself in December 2016.
Ad blocker interference detected!
Wikia is a free-to-use site that makes money from advertising. We have a modified experience for viewers using ad blockers

Wikia is not accessible if you've made further modifications. Remove the custom ad blocker rule(s) and the page will load as expected.