The very first My Little Pony: Friendship is Magic DVD from Shout! Factory, The Friendship Express, was unveiled on November 30, 2011. It is also the first official Region 1 DVD of MLP: FiM.
Synopsis
She may be the smartest unicorn in Equestria, but Twilight Sparkle gets an "incomplete" in friendship. There's more to life than learning magic, after all -- so Princess Celestia sends her pupil to Ponyville, where she meets five special ponies who take her on exciting adventures and teach her the most powerful magic of all... the magic of friendship!
Episodes
Friendship is Magic, Part 1 (Season 1, episode 1)
Friendship is Magic, Part 2 (Season 1, episode 2)
Over a Barrel (Season 1, episode 21)
Hearth's Warming Eve (Season 2, episode 11)
The Last Roundup (Season 2, episode 14)
Probabilities of appearances in this DVD
Twilight Sparkle
84%
Rainbow Dash
64%
Applejack
61%
Pinkie Pie
59%
Rarity
53%
Fluttershy
51%
Spike
29%
Special Features
Sing-Along
Meet The Ponies!
Coloring Sheet
"Yipper Caper" (the pilot episode of Pound Puppies)
Gallery
Videos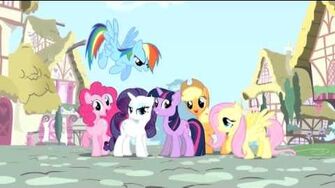 Ad blocker interference detected!
Wikia is a free-to-use site that makes money from advertising. We have a modified experience for viewers using ad blockers

Wikia is not accessible if you've made further modifications. Remove the custom ad blocker rule(s) and the page will load as expected.