Disney heroine Pocahontas sparkles in this captivating classic, available for the first time in breathtaking Blu-ray High Definition! The rich animation and Academy Award winning music (1995, Best Original Musical Or Comedy Score and Best Original Song, "Colors Of The Wind") bust forth with all the "Colors Of The Wind" in this amazing 2-movie collection of Pocahontas and Pocahontas II: Journey To A New World - the 3-disc combo also features a DVD of each film!
Fun and excitement are "Just Around The Riverbend" as Pocahontas and her friends Flit and Meeko find adventure at home and abroad in these sweeping stories from the earliest days of American history. This Pocahontas 2-Movie Collection delivers action-packed stories of adventure, friendship and courage that your family will cherish forever.
Television broadcasts
Edit
Pocahontas now currently airs on Disney Junior, having aired there since 2012.
Broadcast date(s)
Channel aired

September 7–8, 2013
October 5–6, 2013
April 5, 2014
June 29, 2014

March 1, 2014
May 31, 2014
August 17, 2014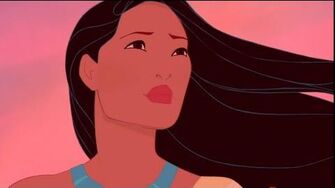 Ad blocker interference detected!
Wikia is a free-to-use site that makes money from advertising. We have a modified experience for viewers using ad blockers

Wikia is not accessible if you've made further modifications. Remove the custom ad blocker rule(s) and the page will load as expected.